Description
India is a country in South Asia. It is the 7th largest country in the world by geography standards and second most populous. Bounded by the Indian Ocean on the south, the Arabian Sea on the west, and the Bay of Bengal on the east, India has a coastline of 7,517 kilometers (4,671 mi). The coastline is composed of headlands, promontories, rocky shores, sandy spits, barrier beaches, open beaches, embayment, estuaries, inlets, bays, marshy land and offshore islands. India borders Pakistan to the west; China, Nepal, and Bhutan to the north-east; and Bangladesh and Myanmar to the east. In the Indian Ocean, India is in the vicinity of Sri Lanka, Maldives, and Indonesia.

India finally became a modern nation state in 1947 after a long struggle for independence. The constitution of India, the longest and most exhaustive constitution of any independent nation in the world, came into force on January 26, 1950. The preamble of the constitution defines India as a sovereign, socialist, secular, democratic republic. India has a quasi-federal form of government and a bicameral parliament operating under a Westminster-style parliamentary system. It has three branches of governance: the Legislature, Executive, and Judiciary. The President of India is the official head of state elected indirectly by an electoral college for a five-year term. The Prime Minister is, however, the de facto head of government and exercises most executive powers.

Four major world religions, Hinduism, Buddhism, Jainism and Sikhism originated here, while Islam, Christianity, Judaism and Zoroastrianism arrived in the first millennium CE and has shaped India's varied culture. India's location lends to its significant biodiversity. India is home to 1.1 million people who reside mainly in rural areas. India is home to 6.7% of all mammals, 12% of apes, 6% of reptiles, and 6% of all flowering plants. India's cuisine is as diverse as its ecosystem and people. The cuisine taste, style, and ways of preparation vary with each region. However, all food in India is categorized into six tastes: sweet, sour, salty, spicy, bitter and astringent. India is home to many famous landmarks including the Taj Mahal, the Himalaya Mountains, Lord Buddha, and the great deserts.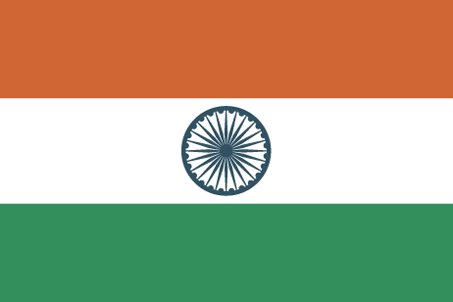 Quick Facts
Population: 1,205,073,612
Capital: New Delhi
Per-capita GDP: $ 3700
Size: 3,287,263 km2
Time Zone: (GMT + 05:30 hours) Mumbai, Kolkata, Chennai, New Delhi

US State Department
Travel Warning: YES
See :
Country Specific Info.
Country information is adapted from public domain resources including the CIA World Fact Book and www.Wikipedia.org.
Please report errors or concerns to questions@abroadoffice.net.